The focus on my IDS major is to incorporate information from disciplines such as biology, psychology, health sciences, and social sciences educate me with the basic literature to pursue a Masters in Occupational Therapy (OT). In my IDS Essay, I go further into depth about all the class and disciplines and just exactly how they benefit towards my program. Taking literature from all these disciplines will help me get a better understanding of perspective and allow me to communicate with people of all disciples and educations. This is important because in the clinic and working world we need to be able to convey our diagnoses and plans of rehabilitation to other occupations such as coaches, doctors, therapist, and even parents of the patient. It is also important to help get the underlying traits to work in a transdisciplinary project with other scholars and city workers to better the community as a whole.
My Applied Project (AP) and Research Article (RA) is a showcase of work that incorporates work throughout different disciplines but in the end, the finished project shows how all these different perspectives can be used to create an OT focused topic that is beneficial for my education and career path. For my AP I created an informative handheld pamphlet, that can be printed, outlining key points to educate OT's and anyone that it may concern on the proper steps and rehabilitation of the individuals motor or cognitive problems. I created this because it is important for OT to understand this as this is one of the many pathological problems that have to help individuals with, however, many do not know that it also happens in young adults more than expected. This project benefited my education because I had incorporate disciplines such as health science, more specifically motor education, and psychology to fully provide the best information in the pamphlet.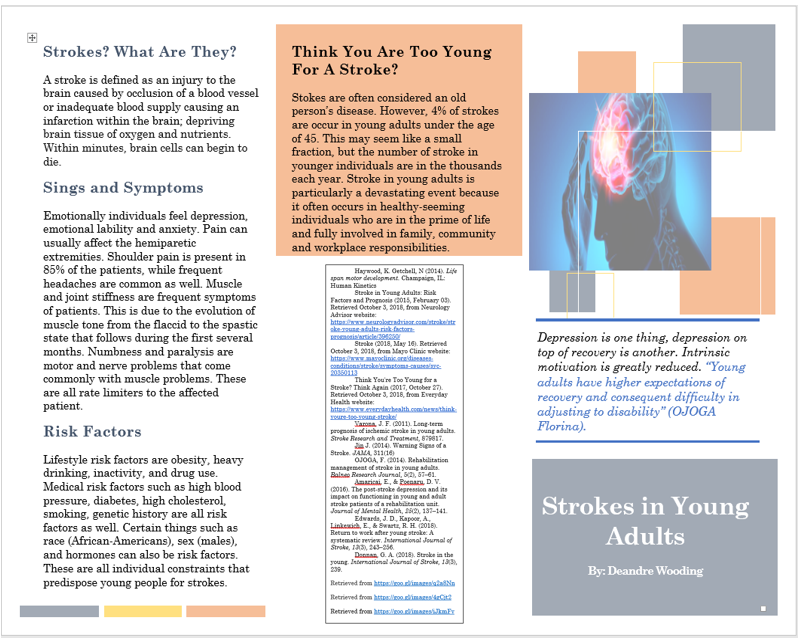 In my RA I researched Autism Spectrum Disorder (ASD) because the prevalence rate of this disorder is increasing throughout the years. This research mostly focused on the disciplines of biology and psychology because we need to understand both the anatomy of the body and how the brain works. It is important that OT's get the best evidence-based practice in the literature so they can develop programs and services that can help people with ASD most effectively. This is important to not only my education but too many others pursuing a career in OT. As the prevalence rate increases more patients will come in for therapy and I need to help patients develop, recover, improve, and maintain skills that are needed for their daily living and working.
This year has been one filled with all the classes I have taken in my contract coming full circle. As I complete courses I have looked at problems such as diseases illness from the different perspectives of all the disciplines and understand these problems as a whole. Assignments like my RA and AP help me to be able to show and refine my ability to incorporate my broad understanding of all these problems and use it under a singular profession and show how to solve or look at these problems a new way. This will help me in my future now as I enter graduate school next fall to narrow down on the key aspects of OT, but still, stand out and provide new and interesting ways to look problems to my colleagues.