A personal learning network (PLN) is a network that an individual can create online that is heavily integrated into their field. For me, this is following top organizations, such as the American Occupational Therapy Association (AOTA) or other large health companies like Center for Diseases Control & Prevention (CDC). I also enjoy following famous or popular scholars in my field so I can get the most up to date literature and news about what is going on in my field. My PLN great to engage in scholarly and even friendly communicating with others in my field. It helped me create bridges and connection for possible future work or even to create future references to go to for help in certain situations. I can communicate with my current colleagues in IDS and even actually talking to an individual that I will be going to graduate school at the University of New Hampshire (UNH) with this upcoming fall semester (2019.
My PLN is weaved heavily into the Occupational Therapy and a little into other disciplines such as the health sciences and psychology. The other disciplines that make up my profession are still used, however, they are not large enough for me to fully dive into them with my PLN without hindering my other major ones. It is not easy to develop a large PLN and it takes a lot of time and interactions. Mine is still small, but by following top scholars in the field as well as top organizations I am starting to get my foot in my favoriting tweets of people under the top scholars. The more public and active I am this process will go quicker. The more I use my PLN the more I understand how this is shared as well. People in the Occupational Therapy field share their ideas throughout all social media, not just twitter which my PLN is mostly on. I follow many other accounts on other apps such as Instagram Many posts are attention-grabbing titles and pictures that are linking articles so you can find the information for yourself as well.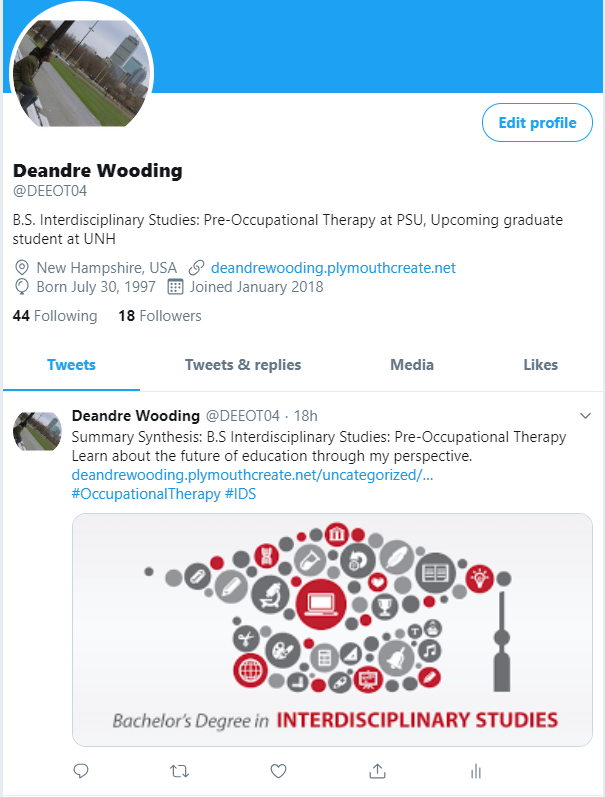 In the start of my PLN as I was in undergrad and I did not want to be very public because I felt I did not have enough education in the subject, however, as I am about to graduate and enter graduate school I am excited to start talking and posting more. I have begun posting weekly literature review post for my followers and they have been getting some interaction as you will see below. This is important because It will let me network and talk to other scholars from all over. Therefore, when I graduate school I will have many people to talk to and referrer for jobs. I have a widget on the left side of my blog with all my tweets and my account is @DEEOT04. I am excited to start seeing more interactions and notifications above my apps as this means I have others interacting with me and starting to gain a presence in my field. My overall goal for my PLN is not to become famous or the most popular individuals, however, after is all over an I am pursuing a career I am hoping all the connections I have created will lead to the best position for me.